CHINA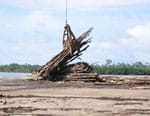 Kiani Kertas pulp mill in Indonesia
Bankrolled by an injection of capital from the Chinese government, which enabled them to write off non-performing loans (NPLs), as well as fresh investment from foreign stakeholders, China's leading commercial banks are becoming new power players in international development finance, particularly in Africa. But with that growing influence comes increasing scrutiny of their activities by watchdogs such as environmental pressure group Friends of the Earth (FOE), which recently issued a report on the banks' environmental record. The report, "Time to Go Green: Environmental Responsibility in the Chinese Banking Sector," criticized the Chinese banks for failing to adhere to international standards pertaining to the environmental and social impact of their lending practices.
According to the report, produced in association with banking watchdog BankTrack, only two of China's 10 leading banks, including the country's Big Four commercial banks, have publicly disclosed their environmental policies. The two banks were China Development Bank and the Export-Import Bank of China. Even these two banks' policies fall short of international best practices, say BankTrack and FOE, particularly in terms of their overseas financing activities, and their implementation of environmental standards was at times inconsistent.
The other eight Chinese banks covered in the report, including names such as the Bank of China, Industrial and Commercial Bank of China, China Construction Bank and Agricultural Bank of China, "had no publicly available environmental financing standards," the report states.
The report concluded that environmental financing policies at Chinese banks focused mainly on ensuring clients obeyed environmental laws, which was not consistent with the standards applied by international banks. It pointed to Chinese banks' involvement in environmentally sensitive transactions such as China National Machinery & Equipment Import-Export Corp.'s Kiani Kertas pulp mill in Indonesia.
"Chinese banks currently view environmental issues as a matter of charity rather than a core business issue," the report's author, Michelle Chan-Fischel of FOE US, stated, adding that this was reminiscent of Western banks' attitudes 10 years ago. BankTrack co-coordinator Johan Frijns went as far as to say that Chinese banks' failure to adhere to environmental financing standards could jeopardize the progress made by the international banking sector. The report called on international banks such as HSBC and Bank of America, which have equity stakes in Chinese banks, to set a good example by encouraging them to institute "world class" environmental standards.
Anita Hawser