Colombia/ecuador/venezuela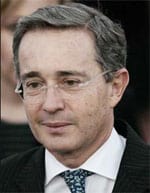 Uribe: Used the standoff to push US-Colombia trade deal
After Venezuela and Ecuador sent troops to their borders with Colombia, in response to Colombia's attack on FARC (Revolutionary Armed Forces of Colombia) rebels within Ecuadorian territory on March 1, it appears the government in Bogotá may be the "war's" ultimate winner. Threats of attacks not only allowed Colombia to state its case against FARC rebels in the global media but also convinced US president George W. Bush to push legislators in Washington to approve a US-Colombia free trade agreement (FTA) that has been stalled for two years.
When Bush offered Colombia, the United States' closest Latin American ally, assistance in the conflict, Colombian president Alvaro Uribe instead asked Bush to convince legislators that the FTA's passage would help strengthen Colombia's economy and democratic regime. Bush says passage of the stalled FTA is now a "matter of national security." His fast-track authority to push the trade deal through congress expired last year, and ongoing concerns over labor and environmental issues will likely make passing the deal a hard sell, particularly as the US presidential campaign heats up.
Despite Venezuelan president Hugo Chávez's and Ecuadorian president Rafael Correa's high-profile saber rattling, which came to an end during a Rio Group summit in the Dominican Republic on March 7, with all sides shaking hands and restoring diplomatic ties, the conflict had the greatest impact on trade. Venezuela is Colombia's second-largest trading partner after the US. Colombia supplies Venezuela with food items the Chávez administration needs to tackle mounting food shortages. Venezuela buys 20% of Colombian exports, and trade among Venezuela, Ecuador and Colombia was $8 billion last year. However, the conflict virtually shut down border trade.
Meanwhile, Uribe's response to the conflict helped further boost his political standing, having already registered an 80% approval rating in a Gallup poll in January. His message to his neighbors seems to be "Make Trade, Not War".
Antonio Guerrero