Global
By Gordon Platt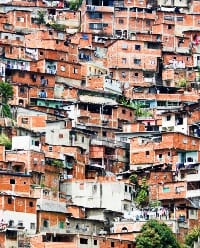 Raw deal: The poorest will suffer the most
The low-income developing countries with little prospect of repaying loans are in the greatest need of help as a result of damage from the global financial crisis. These same countries, however, are unlikely to benefit from increased lending by the International Monetary Fund, as agreed by the Group of 20 in May.
The global financial crisis already has taken a big bite out of investment flows to developing countries. Total private capital flows last year fell to $707 billion from $1.2 trillion in 2007. This year they will drop to $363 billion, approximately the level of 2004, according to the World Bank.
"Developing countries will most likely face a dismal external financing climate in 2009," the bank says in its Global Development Finance report. With private capital flows expected to plummet, many countries will have difficulty meeting their external financing needs, estimated to total $1 trillion for this year, it says. Private debt and equity flows will likely fall short of meeting needs by a wide margin, the report adds.
Low-income countries that are already under strain will suffer most, the World Bank says. "Most of the available resources to be provided by the IMF and other international financial institutions are likely to be devoted to high-income emerging markets and middle-income countries that are likely to be able to repay the loans they receive," it says.
It is important that debt-relief programs be continued and expanded, the World Bank says. "When countries cannot secure adequate external financing, the external adjustment process will be abrupt-more so than projected for the developing world as a whole, requiring an even greater decline in domestic demand and putting additional pressure on the exchange rate," the report says.
Eastern Europe and Central Asia, as well as Latin America and the Caribbean, are likely to end 2009 with negative growth, the report says. Moreover, when India and China are left out, gross domestic product in the remaining developing countries is projected to fall 1.6% this year.