ECUADOR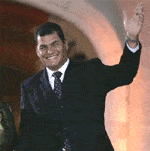 Correa: Clamping down on the oil industry
After a 15-year absence, Ecuador has rejoined OPEC in a move president Rafael Correa says will allow his country to gain greater access to technical advice and market information. Critics, however, claim Venezuelan president Hugo Chavez, Correa's socialist ally, may have had a hand in the decision.
"We will be independent and will support our own decisions," said Ecuadorian oil minister Galo Chiriboga, responding to allegations that Ecuador rejoined the fold in order to side with Venezuela at oil meetings. Venezuela is regarded as one of the organization's price hawks, and Chavez has urged his neighbors to increase state control over their respective oil sectors.
In October Correa raised the government's tax on foreign oil-company windfall profits to 99% above the contractual oil price benchmark from a previous 50%. Correa gave companies two weeks to pay the extra royalties or risk having their contracts terminated. While authorities in Quito rule out a full nationalization, analysts charge the move gives the government greater control.
Ecuador joined OPEC in 1973, but in 1992, annoyed by the group's decision not to boost the country's output quota, it claimed it was unable to pay its dues. Ecuador did not withdraw its membership but instead stopped paying dues and participating in meetings. In order to become fully involved again, it had to agree to repay $5.7 million in past dues within three years.
Despite high oil prices, Ecuador's GDP has reached its slowest growth pace since 1999. The official growth forecast was revised downward from 4.3% to 3.4% for 2007, following 2006's 3.9% growth, due to weak oil sector expansion and lower oil exports. With private companies accounting for 50% of the country's average output of 545,000 barrels per day in 2006, Correa says he hopes OPEC will help him renegotiate contracts with private oil producers, which are no longer his biggest fans.
Antonio Guerrero