Global
By Denise Bedell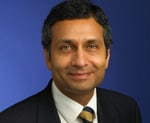 Gomes: Activity is about to really accelerate
Companies in high-growth regions are taking advantage of their relative strength to pick up good value assets in harder-hit developed markets, according to new research by KPMG.
KPMG's latest Emerging Markets International Acquisition Tracker (EMIAT) has found that emerging-to-developed (E2D) acquisitions are rising sharply while developed-to-emerging (D2E) buys are still declining. In fact, E2D acquisitions in the second half of 2009 reached 47% of D2E figures—a huge change from previous figures. In the second half of last year, emerging economies racked up 102 purchases in developed countries, up from 78 in the first half of the year. In contrast, the figures for developed country buys in emerging economies dropped for the second consecutive year—down to 216 from a high of 463 deals completed in the second half of 2007.
Leading the emerging market buyers list are, not surprisingly, companies from China, which have taken over the lead from India, the emerging country that dominated the EMIAT until 2008. China registered 30 deals in the second half of 2009 while India accounted for 25 transactions. The big surprise, however, was the Middle East, which vaulted up the chart with 17 deals in the latter half of the year—up from only five in the first half.
The data demonstrate the growing strength and importance of high-growth emerging economies as drivers of global economic development. "There are signs everywhere of how E2D activity could be about to really accelerate," notes Ian Gomes, chairman of KPMG's high-growth markets practice in the UK. "Chinese companies are showing greater interest in overseas acquisitions, prospecting for deals and conducting plenty of feasibility studies. Activity out of the Middle East is increasing, and this will only accelerate once the local sovereign wealth funds make their move, inspiring others to follow," he says. He believes the trend will continue, as it is unclear if developed economies have finished their decline on the acquisition charts.
EMIAT data cover 12 developed economies and 11 high-growth emerging economies and are tracked by M&A; data provider Zephyr.