COSTA RICA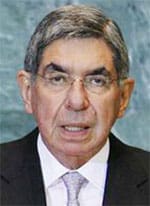 President Arias successfully concludes free trade agreement.
Four years after it was first signed, Costa Rican lawmakers in November finally ratified Cafta, the free trade agreement between Central America, the Dominican Republic and the United States. The move not only ends a four-year political battle but also opens Costa Rica's telecommunications and insurance sectors to competition. Cafta will go into effect in Costa Rica on January 1.
The path to approval included street protests, threats by some companies to exit the country if the pact was not implemented, heated congressional debates and discussion of its legality before the nation's constitutional court. There was even a public referendum on the treaty last year, in which 51% of voters supported its ratification. The situation led to two extensions to its implementation deadline.
The main sticking points involved Cafta's implementing legislation, which included charges that intellectual property guidelines were too stringent in requiring prison sentences for violators. It also demanded an end to the government's monopoly on the telecommunications and insurance sectors. The administration of president Oscar Arias, a Nobel laureate and strong Cafta supporter, entered into negotiations with lawmakers to secure their approval.
The country's mobile telephony services are currently controlled by the Costa Rican Electricity Institute (ICE). With ratification, several international telecommunications providers have expressed interest in investing in the sector. While a monopoly on insurance services will also end, the recent global financial turmoil has sapped enthusiasm for investments in the insurance sector. Analysts estimate agricultural producers will, in turn, benefit most from access to US markets.
The US remains Costa Rica's largest trading partner. However, Cafta's ratification comes as the government in San José appears to be looking less to Washington and more to China. The two countries have already launched technical meetings for discussion of a free trade agreement of their own.
Antonio Guerrero