UNITED STATES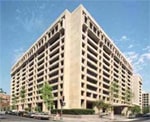 IMF: Many view it as responsible for causing, not reducing, poverty.
The International Monetary Fund (IMF) is not likely to win any popularity contests anywhere in the world these days. Emerging market governments have been particularly harsh in criticizing the multilateral lender for imposing structural adjustments that have plunged many of their nations into greater poverty and unleashed social unrest. Like a private company looking to salvage its brand, the IMF has now hired two public relations firms to help improve its image.
Hill & Knowlton will work to improve the IMF's external communications in the Middle East and Asia, and Amo/Euro RSCG will implement a similar strategy in Africa and Latin America. According to IMF spokesperson Masood Ahmed, the one-year contracts are for a combined total of some $2 million.
Officially, the move aims to outsource IMF communications as part of a plan to save $100 million each year to counter declining income. Analysts, however, say it really seeks to tackle the IMF's mounting crisis of legitimacy. In Asia the IMF's image has not recovered since the region's 1997 financial crisis, with governments reluctant to take on new IMF loans. In Latin America the trend has been for governments, including former top clients Argentina and Brazil, to prepay their IMF debt.
This is not the first time the IMF has hired public relations experts to help improve its image. The strategy stretches back to 1998, when it hired Edelman Public Relations Worldwide and polling agency Wirthlin Worldwide to recommend ways to improve its external communications. "[The IMF executive board] observed that, although the work of the IMF—based on its mandate to safeguard the macroeconomic and monetary foundations of economic growth—is vital to economic welfare and rising living standards worldwide, much of its work tends to attract controversy," said an IMF review of its external communications strategy in 2003, the third such review in five years. Its public image may be hurting, but the IMF's self-esteem appears to be intact.
Antonio Guerrero