MILESTONES: MALAYSIA
By Thomas Clouse
Malaysia's National Front coalition will extend its 56-year reign by another five years after maintaining its parliamentary majority in a tightly contested and controversial election.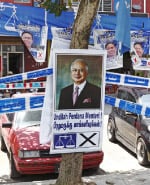 The National Front, a group of political parties led by the United Malays National Organization (UMNO), won 133 of the country's 222 seats in parliament after record-high voter turnout, despite a heated and at times violent campaign. The successful result comes after a five-year term in which the National Front, led since 2009 by prime minister Najib Razak, steered the economy out of the global financial crisis to post growth of 5.1% last year, according to World Bank figures. Najib has also implemented policies to encourage foreign investment and worked internationally to promote free trade.
Despite the economic growth, early reports indicate that the National Front failed to win 50% of the popular vote for the first time in 44 years. Owing to districting rules, the coalition still won a parliamentary majority but fell short of the two-thirds majority needed to enact constitutional changes. The relatively weak result reflected slackening support among the country's ethnic Chinese and Indian populations, as well as many of the country's urban residents. These groups largely supported the opposing coalition, the People's Alliance, which sought to reduce corruption and advocated reform of the country's race-based benefits system. The leader of the People's Alliance, Anwar Ibrahim, is disputing the results of the election over charges of voter fraud. He has called on supporters to protest.
Effectively establishing his legitimacy amid these allegations of voter fraud is only one of many trials Najib will face. Other challenges will likely come from within his own party, and they could ironically slow the pace of reform, according to Jeffrey Bader, senior fellow at the Brooking's Institute. "Many longtime observers believe that the real election is within the UMNO," he says. "The argument is that since Najib did not bring in a result that preserved UMNO's two-thirds majority and capacity to rewrite the constitution, old-line leaders, possibly current deputy prime minister Muhyiddin Yassin, could displace Najib and stem reforms."