CHINA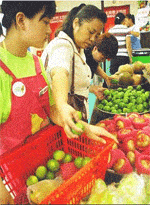 Feeling the squeeze: Chinas shoppers face swiftly growing prices.
China's central bank increased reserve requirements for the seventh time this year in September in a losing battle to control the growth in bank credit. Outstanding loans were up 16.6% year-on-year as of the end of July, while the broad M2 money supply was up 18.5%. Fears that fast money growth could result in inflation appeared to be coming true, as consumer prices rose 6.5% in August from a year earlier, the highest in more than a decade.
Food prices rose 18.2%, with the politically sensitive price of pork and other meat surging by 49%. Economists say the food-price rise is not spilling over into other areas of the economy, however, and is mainly the result of blue-ear disease, which has caused a 10% decline in the pig population. The risk, nonetheless, is that if the economy continues to grow at a very rapid rate, food inflation will boil over and ignite widespread inflation or a financial crisis.
Repeated interest rate increases and investment curbs have failed so far to cool an overheated economy. Faster appreciation of the yuan would help but is unlikely to happen, if only because China's leaders don't want to be seen as caving in to Western pressure to revalue.
As the US subprime mess demonstrates, bubbles cannot be allowed to inflate without consequences. Oblivious to all of this, the Shanghai stock market continues to soar, with the A-share index up 100% since January on top of a 134% increase in 2006.
Questions are arising about the ability of Chinese authorities to control the economy, says Yiping Huang, Hong Kong-based head of Citi Asia-Pacific economic and market analysis. Abundant liquidity has contributed to rising risks of asset-price bubbles, most notably in the housing and equity markets, he says.
Gordon Platt