COLOMBIA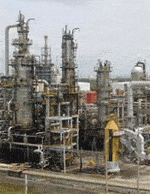 Ecopetrol's Cartagena oil refinery.
The Colombian energy sector entered a new investor-friendly era with the late-August IPO of Ecopetrol, the state-owned oil company. Ecopetrol is Colombia's largest corporation, with income of around $18 billion in 2006. The issue was the first round of an IPO that will eventually float around $2.7 billion, or 10% of the company's capital.
Experts say the deal will raise interest in Colombia, boosting both the supply and the demand for shares in local markets—and potentially increasing the market capitalization of Colombian equities by up to a third. Juan Antonio Jimenez, a trader with Correval, a Colombian investment bank, says the deal will also draw new investors into the market. "People who have never invested in the financial markets are investing now through Ecopetrol," he says. Observers believe the new money is predominately from locals who used to send their money abroad because Colombia's troubled security situation made the country a risky investment. Now, they say, economic growth of almost 7% and a vastly improved security environment under President Alvaro Uribe is attracting the money once again.
Marcela Giraldo, a senior analyst at local brokerage Corredores, says that under President Uribe financial authorities have set up Colombia Capital, an initiative to help private companies come to the market. "There are several more deals on the way," she says.
Ecopetrol's IPO is taking place in three stages. The first two are aimed at local investors while the final round will be open to foreigners. Giraldo estimates that around $300 million of shares have been bought thus far, mainly by local pension and investment funds (though shares are also on sale to the public at supermarkets).
Ecopetrol is expected to use the proceeds of the deal to invest in upping production of existing oil fields while exploring for new reserves within Colombia, at sea and abroad. Ecopetrol produces 316,000 barrels of oil per day and has around 1 billion barrels of proven reserves, but the International Energy Agency predicts that Colombia will be a net oil importer within 10 years if new reserves are not found.
The move to involve more private capital comes as a stark contrast with the trend toward nationalization and hostility to foreign investment in the oil sectors of neighboring Venezuela and Ecuador. "As the neighborhood has gotten uglier, Colombia has gotten a little prettier," says Roger Tissot, head of country strategies at PFC Energy, a consultancy.
Hugh Collins