Panama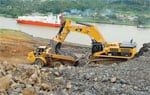 Digging in: Work is now under way on the $5.25 billion expansion of the Panama Canal.
Although Brazil appears poised to become Latin America's next investment-grade-rated sovereign, a tiny country may beat the giant to the punch. With Standard & Poor's upgrade of Panama's rating to BB+ from BB, all three major rating agencies now rate both Brazil and Panama just one notch below investment grade.
Panama has several factors in its favor, including a dollarized economy, steadily rising reserves and a declining debt-to-GDP ratio. While most countries worry about the impact of a US economic slowdown, Panama posted 11.2% growth last year, and finance minister Hector Alexander expects the expansion to "slow" this year to between 8.5% and 9%. Standard & Poor's is more cautiously forecasting 6.5%. Growth has averaged 6.5% since 2002, while the government reversed a 5.6% budget gap in 2004 into a 0.7% surplus in 2007. Much of Panama's boom is being sparked by the launch of a $5.25 billion Panama Canal expansion, as well as a hot real estate market, record tourism sector growth and ongoing expansion of the country's international banking center. Despite slow-moving approval by US legislators of a pending US-Panama free trade pact, the Central American country just signed a free trade agreement with Guatemala, and Mexico's president Felipe Calderón wants to revive a stalled free trade deal with Panama.
"Maintaining a near-balanced fiscal position during the expansion of the Panama Canal is critical," said Standard & Poor's in its ratings rationale. The Martín Torrijos administration has submitted to Congress a long-awaited revision of its fiscal responsibility law. "Our government has worked with dedication and without rest, and we can say that we have set the groundwork for a modern, different Panama," President Torrijos said.
Brazilian president Luiz Inácio Lula da Silva likely feels the same way about his own economic successes. An investment-grade rating could be a nice pay-off for their efforts, regardless of who crosses the threshold first.
Antonio Guerrero