Panama
By Antonio Guerrero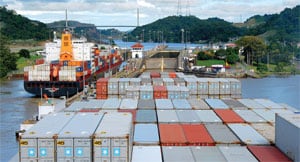 Providing a lift: Canal expansion will boost Panama economy
Panama is poised to become Latin America's newest investment-grade-rated country. Standard & Poor's pushed Panama closer to the coveted rating in November when it raised the outlook on its BB+ long-term rating from stable to positive, noting expectations that further fiscal consolidation and continued GDP growth could merit an upgrade. S&P;, Moody's and Fitch all rate Panama just one notch below investment grade.
S&P; notes that Panama's general government deficit is expected at 2.2% of GDP this year, falling to 1.8% in 2010. The public sector deficit should also decline from 1.8% in 2009 to 1.4% in 2010, well below the 2.5% ceiling stipulated under a new fiscal responsibility code. General government debt will remain unchanged at 40% of GDP in both 2009 and 2010.
While some Latin American countries are only gradually overcoming the impact of the global economic downturn, Panama's economy remains strong. S&P; predicts GDP will expand by 2.3% this year and 4.5% in 2010, following hefty 9.2% growth in 2008. Growth is being driven by increased trade, a construction boom and a $5.25 billion Panama Canal expansion set for completion in 2014.
An upgrade would be a huge boost for president Ricardo Martinelli, the US-educated supermarket magnate and conservative candidate who won this year's election by a landslide of more than 60% of votes. Since taking office in July, Martinelli has pushed through much-needed fiscal reforms, including a controversial tax overhaul in September.
A free-trade agreement with the United States is still pending congressional approval in Washington, with delays due partly to Panama's reputation as a tax haven. Analysts say 96% of Panamanian goods enter the US duty-free under other programs, so the pact would benefit mainly US producers. Even without an agreement, US exports to Panama soared from $2.7 billion in 2006 to $4.9 billion in 2008.