Peru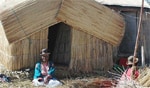 Lessons learned? Investors will be looking closely at the assets behind Peru's mortgage-backed securities.
While most global markets are seeking to shield themselves from shockwaves emanating from the US subprime home loan and residential mortgage-backed securities (RMBS) meltdown, Peru is running in the opposite direction. Peru has made its debut in the RMBS market with a $25 million deal from BBVA Banco Continental, the local subsidiary of Spain's BBVA.
The deal is part of an authorized program for $100 million and included senior and junior instruments for $23.75 million and $1.25 million, respectively. Clearly investors have confidence in the move: Demand exceeded $42 million from local institutional investors. A partial guarantee from the Inter-American Development Bank will help provide additional protection against defaults of underlying mortgages and contributed to the issue's securing a BBB- investment-grade rating from both Standard & Poor's and Fitch.
With this operation, BBVA Continental is marking the way in RMBS in Peru, said the issuer. It is hoped that this will be the beginning of a series of programs and issues with similar characteristics in the coming years that boost the capital market in Peru and promote the development of the mortgage market.
Fitch says the excess spread of the portfolio acts as additional credit enhancement, while noting the collateral consists of 1,044 mortgages denominated in dollars and concentrated (79.6%) in the capital city of Lima and neighboring port city of Callao. Interest rates for mortgages last year were lower in soles, the local currency, than in dollars, according to the Peruvian Banking Association, averaging 9.58% in dollars and 9.3% in soles. The group admits the US subprime crisis will make it difficult to predict dollar interest rates this year.
Meanwhile, housing minister Enrique Cornejo has unveiled a new program, Mi Vivienda, to help middle-class consumers become first-time homeowners. Even Peruvians residing abroad, and are therefore likely to have scant local credit histories, will qualify for the program. Déja vu?.
Antonio Guerrero