PERU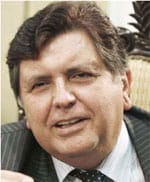 Peru's president Alan Garcia: Fiscal policies led to upgrade.
While analysts debated whether Brazil or Panama would win the race to become the next Latin American investment-grade-rated country, Peru beat both countries to the finish line. Citing a strong improvement in fiscal and external solvency ratios, Fitch upgraded Peru's long-term foreign currency rating in April to BBB- from BB+.
Standard & Poor's still rates Peru one notch below investment grade but is expected to follow Fitch's lead. Moody's remains more cautious and rates it two notches below. According to finance minister Luis Carranza, the upgrade now puts Peru "on the road to first-world" status.
The upgrade places Peru in the same league as Mexico, Chile and El Salvador—the region's other investment-grade-rated sovereigns. Recent economic growth and fiscal stability throughout the region continue to keep Brazil and Panama in the running, while Colombia, which lost its investment-grade rating in 1999, is also on a steady path toward recovering it.
The upgrade is a feather in the cap of Peruvian president Alan Garcia, whose first administration (1985-1990) ended in an economic debacle, with four-digit inflation and stalled growth. Since taking office in 2006, Garcia has taken a fiscally responsible stance and adopted business-friendly policies that are paying off nicely. Peru's economy grew 9% last year, driven by high metals prices.
The government is using the commodities windfall to pay down foreign debt and announced plans to pre-pay some $1.1 billion to the World Bank and Inter-American Development Bank by mid-year. It paid down $1.8 billion of Paris Club debt last year and in March bought back $838 million in Brady bonds.
The upgrade, which is sure to broaden Peru's investor base, boosted Peruvian asset prices, though many market players had already priced in the move, leaving little room for further upside. The foreign exchange rate also strengthened to a 10-year high, with Goldman Sachs predicting further strengthening by year-end.

Santiago Fittipaldi