South Korea
By Thomas Clouse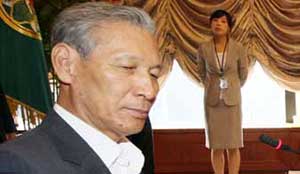 Lee Seongtae: Kept a steady hand on tiller during crisis
Few economies have proven as resilient over the past 18 months as that of South Korea. In the wake of Lehman Brothers' collapse, foreign investors fled, exports plunged, the Korean won sank, and the economy contracted sharply. The central bank cut rates quickly and often in the months that followed, while the government introduced stimulus measures. By the third quarter of last year, private spending had increased, exports were up significantly, and the economy grew by a seven-year-high quarterly rate of 3.2%. Many economists predicted that South Korea would be the first Asian country to begin rolling back its accommodative monetary policy.
Korea's central bank decided last month, however, to keep the seven-day repurchase rate, the country's key interest rate, at 2% for the 12th month in a row. The bank based its decision on the fact that GDP growth slowed to 0.2% in the fourth quarter, and January unemployment rose to 5%, its highest rate since March of 2001. Public debt crises in Europe further clouded Korea's economic outlook, the bank says.
Other figures offered more optimistic evidence, though. Exports grew by 47.1% year on year in January, while industrial production expanded by 33.9% year on year in December. Both figures were at their highest level in more than a decade. In addition, the fourth-quarter year-on-year growth stood at 6%. With these indicators in mind, some observers are suggesting political considerations could be weighing on the central bank's decision to keep rates low.
They may have a point. The government of Korean president Lee Myung-bak sent an official to sit in on the central bank's meeting, breaking a decade-long practice of excluding political representatives. The replacement for central bank governor Lee Seongtae, whose term expires at the end of this month, is largely expected to be more pro-government.