Vietnam
By Thomas Clouse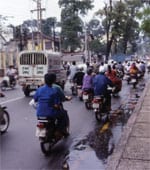 Off to the races: Vietnam's stimulus efforts trigger renewed inflation fears
Vietnam is redirecting its efforts from stimulating the economy to controlling inflation after the country's consumer prices rose by 1.38% month on month in December. For the year, prices increased by only 6.88%, the lowest rate in six years, but the acceleration in December is prompting concerns that the economy may be overheating. The country's GDP rose by 6.9% in the final quarter of last year, boosting the total 2009 growth rate to 5.32%. While welcoming the strong growth numbers, policymakers are already taking action to rein in the economy, raising interest rates in December and requiring commercial banks to submit reports last month on their lending plans for 2010.
Vietnam has battled inflation in recent years, with the consumer price index (CPI) peaking at 28.3% year on year in August 2008. The global financial crisis, which kicked into high gear the following month, relieved much of the inflationary pressure, and Vietnamese policymakers switched their attention to maintaining growth through stimulus spending, subsidies and interest rate cuts. Those moves spurred a bank lending spree, helping the economy grow but also putting upward pressure on prices.
Trade deficits have increased that pressure further. After posting several monthly surpluses early last year, the country has registered wide deficits in recent months. Imports soared by 44.5% year on year in November, prompting the central bank to devalue its currency, the Vietnamese dong. Import growth slowed to only 15.7% in December, but fears of inflation have pushed up demand for foreign currencies, keeping pressure on the exchange rate, even after the government adjusted its official rate.
These fears of inflation have also boosted the market for gold. Vietnam was the world's largest importer of gold in 2008, according to the World Bank, as rapid inflation prompted investors to seek more stable stores of value than cash. The appetite for gold is returning, with gold-trading floors operating in many of the country's banks and trading houses. The government has ordered these gold trading floors to close by the end of March, and the central bank issued new regulations preventing banks from granting loans for gold trading. The moves could push more liquidity back into the economy and alleviate some inflationary pressure.
Despite the move to end gold trading, the recent interest rate increase and tighter bank supervision, most analysts expect inflation to return to double digits this year. Along with this rise, the central bank will likely increase interest rates, with HSBC estimating that Vietnam will increase its lending rate by 4 percentage points by the end of the year.
The government also faces budgetary challenges, with stimulus measures pushing government spending up to 7% of GDP in 2009. The government hopes to relieve some of these budgetary pressures with a bond sale, though the country's inflationary trends and trade and budgetary deficits could dampen demand.