Argentine government officials want to ensure they are insulated from

short-term speculative flows of capital Jos M. Barrionuevo, Barclays


UNITED STATES

HERE COME THE EUROPEANS

Its hard to believe that it was just three years ago that Nasdaq swaggered over to the Old Continent to establish Nasdaq Europe. Riding high on the technology bubble, Nasdaq was confident it could replicate in Europe the sort of dramatic performance that had made it a household name in the US.

It was not to be. Last month, after six weeks on the job, the new president and CEO of Nasdaq, Robert Greifeld, announced Nasdaq Europe would be closing down, a victim of spectacularly poor timing.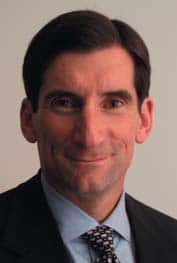 Nasdaq Europe might not be the only casualty of the general economic malaise. Greifeld also is reviewing the future of Nasdaq Deutschland, the German exchange Nasdaq launched last year in a joint venture with the Berlin Exchange to compete with the Deutsche Brse.A decision on the fate of Nasdaqs German unit is expected by the end of this year.

Greifeld says Nasdaq whose performance over the past three years has been dramatic, but not in a way that anyone would celebratewill concentrate on becoming the predominant US stock market. He hopes it will achieve this mission by capturing a greater share of IPOs, increasing trading volumes no matter where a company is listed and attracting listings from other exchanges.

Instead of taking the market to the Europeans, Nasdaq is hoping to bring the Europeans to the market. Its a strategy that worked before: In the early 1990s,many European companies crossed the Atlantic to list on Nasdaq, despite its tougher disclosure requirements and regulatory controls.With a growing number of European companies showing an interest in listing on the US electronic market, Nasdaq is banking on history repeating itself.

To help it along, he will expand Nasdaqs sales force and focus on improving its system functionality.

Greifeld also will concentrate on winning back some of the trading volume Nasdaq has lost to ECNs, or electronic communications networks. He has some experience in this area, since he is credited with creating BRUT, one of the earliest ECNs whose members included Knight Trading, Morgan Stanley, Goldman Sachs and Merrill Lynch. Gordon Platt

UNITED STATES

FREDDIE MACS COOKIE JAR

When Freddie Mac cleaned house in June, ousting its top executives in an accounting scandal, investors worried that the mortgage market would suffer, removing a key support to the wobbly US economy.

So far at least, nothing of the sort has happened. Mortgage rates have been stuck at 40-year lows, and the housing market, which accounts for 11% of US gross domestic product, remains healthy.
Why the benign reaction? For one thing, Freddie Mac is a government-sponsored enterprise, which some investors take to imply as an implicit guarantee by Uncle Sam. Never mind that Federal Reserve chairman Alan Greenspan warned investors more than a year ago not to take risks with the publicly traded companys securities. Freddie Macs mortgagebacked securities remain popular, nonetheless, especially with international investors who buy them as a higher-yielding alternative to governmentbacked bonds.

If Freddie Mac had overstated its earnings instead of understating them, would this have made a difference? Some analysts think so. After all, whats so bad about putting a little money away in the cookie jar for use in a time of need? Well, for one thing, Freddie Mac had a very big cookie jar. It understated earnings by as much as $6.9 billion before taxes in the past three years, although it isnt clear that it was intentionally putting aside reserves to boost profits in lean years. The company blamed the practice on a lack of sufficient accounting expertise and management weaknesses. Perhaps most encouraging, analysts say, is the fact that Freddie Macs board took action to replace top management before lasting damage could be done. Investors have to hope the company has also found someone who has sufficient expertise to manage its accounts. GP

ARGENTINA

KEEPING CAPITAL UNDER CONTROL

In a rare example of an administration closing the barn door before the horse bolts through it, the Argentine central bank last month slapped controls on incoming capital. The move is intended to head off global investors who had noted that the Latin nations troubled economy is starting to stabilize and thought Argentina was becoming the latest hot spot for stashing speculative cash.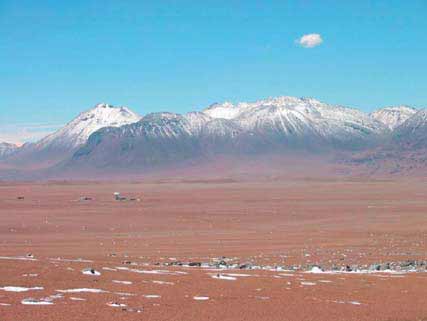 The international financial vultures who drop cash into a local economy only to pull it out weeks later after theyve posted huge profits will be severely disappointed: Any funds entering Argentina must now stay in the country for at least 180 days.
Its a pre-emptive move, says Jos M. Barrionuevo, head of emerging markets strategy at Barclays Capital in New York City. [Argentine government officials] want to ensure that in the future, if the economy keeps growing and the outlook keeps improving, they are insulated from short-term speculative flows of capital.

Barrionuevo says the economy has grown by more than 5% so far this year after a contraction of nearly 11% in 2002. Inflation, which was running nearly 50% on an annualized basis last year, is now at 12% and should reach 7% by years end.
The appreciation of the Argentine peso may be another reason why capital inflows reached $950 million in May, compared to a monthly average of $550 million during the first quarter of this year, according to Argentine central bank statistics.
Analysts agree the decision must have the tacit approval of international financial agencies, who no longer automatically believe that capital controls are a negative. The right degree of controls can help discourage the speculative financial flows around the globe that led to the Asian financial crisis in the late 1990s. Paula L. Green

WORLDWIDE

ASSET MANAGERS GET THAT SINKING FEELING

Global asset managers must shape up or ship out, according to a report released by the Boston Consulting Group in June. Navigating the Maze: Global Asset Management 2003, based partly on a survey of institutional and retail asset managers, suggests that managers are too concerned by achieving incremental volumes and insufficiently focused on profit and net revenues. Assets under management shrank by 8% over the calendar year and, says the report, the industry needs to reorient itself by monitoring and managing revenues and costs by segment and channel, managing distribution better and more rigorously. In fact, asset management companies should apply to themselves the metrics by which they measure other companies.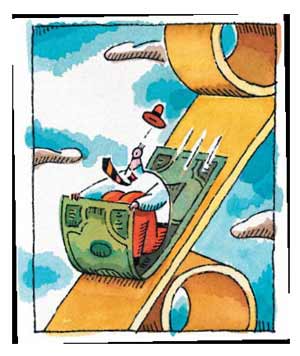 The reason for the harsh comments is that, according to the study, 30% of asset managers are only marginally profitable, bringing in pre-tax profit margins of less than 20%. Around 7% of companies are running at a loss. Boston Consulting predicts that through to 2006 industry profitability will decline, or at best stay flat at about 11 basis points on assets under management. Volumes of assets under professional management should grow at a compound annual rate between 0.7% and 6% through to 2006, but even that top figure is less than half the pace of growth the industry saw between 1995 and 2000.

Drops in asset values, lower revenues and rising costs, set to go higher with Basle II, point toward further consolidation in the industry.With large acquisitions hard to justify, however, the report anticipates the current trend for lift-outsof division, team or product groupto accelerate in both Europe and North America. Companies that have diversified into asset management may seek to get out again, and of course some of the least profitable institutions will exit the business altogether.

Benjamin Beasley-Murray