Venezuela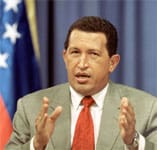 Venezuelas Hugo Chavez

Skeptics are questioning the rationale behind the Venezuelan governments proposed debt alliance for Latin American emerging markets. Its chief cheerleader, Hugo Chavez, claims the move should bolster emerging market debt prices and provide financing for the regions countries.
Under the plan announced by Venezuelas finance minister, Nelson Meirentes, in July, alliance members would purchase each others debt, with Venezuela already committed to purchasing debt from neighbors such as Argentina, Brazil, Bolivia and Ecuador. The government in Caracas is expected to purchase more than $500 million worth of Argentine debt alone this year.
Its a way to unify Latin America, says Meirentes, who also proposes the establishment of a regional debt trading center in So Paulo, Buenos Aires or Caracas. However, while Venezuela may appear to be channeling some of its oil windfall to lending its neighbors a helping hand, analysts speculate whether the administration may be using the strategy to buy greater influence in the region.
Chavez, who has already proposed the creation of an umbrella holding company to manage Latin Americas state-owned oil companies, supports the establishment of a regional economic union and recently launched a new regional television broadcaster as part of a broader strategy to gain greater regional prominence.
However, the Venezuelan Presidents increasingly authoritarian policies, fierce opposition to Washington and strengthening ties to the Fidel Castro regime in Havana means few governments are likely to jump on his debt bandwagon. Much of his regional support continues to come from Cuba, as well as from leftist administrations in Argentina and Brazil.
What this doesnt seem to answer is how you will get net new lending into Bolivia, Peru and other developing countries, said Randall Dodd, director of the Washington-based Financial Policy Forum, in a press interview in July. You just cant do each others dirty laundry and then say we are all better off.

Antonio Guerrero