VENEZUELA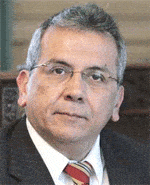 Rodrigo Cabezas: New currency will help fight inflation.
Venezuela is gearing up for the introduction of a new currency to replace the bolivar, in circulation since 1879, in a move the Hugo Chávez administration hopes will help curb inflation. While the bolivar fuerte—the "strong bolivar"—will begin circulating on January 1, 2008, local businesses began setting prices in both old and new currencies on October 1 in a move the central bank contends is part of a process to educate consumers.
Under the bolivar fuerte, whose ISO 4217 currency code will be VEF instead of the bolivar's VEB code, the new currency will lop off three zeroes from its predecessor. The official exchange rate will initially be set at VEF2.15 per US dollar, though it will continue to fluctuate within a band. Despite speculation that the government would seize the opportunity to weaken the overvalued currency, finance minister Rodrigo Cabezas says there will be no rate adjustment in 2007 or 2008 but hinted at a possible correction in 2009.
With the economy growing by 10.3% last year on the back of strong oil prices, consumer demand had fueled inflation to 15.9% by August—although that was lower than February's peak of 20.4%. "For 26 years, inflation forced us to add more and more zeroes to the Venezuelan monetary unit," Cabezas said, claiming the new system will help lower inflation and boost competitiveness.
Local economists are not convinced and argue that the move, approved by presidential decree in March and which will cost an estimated $340 million to implement, should have been accompanied by a coherent anti-inflation strategy that included a reduction in public sector spending. With the bolivar trading on the parallel market at less than half the official exchange rate, critics warn that a future devaluation could be a hefty one when it comes.
Antonio Guerrero