ARGENTINA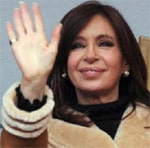 President Kirchner makes
overtures to avoid debt default.
After months of analysts' warnings that Argentina may be facing a new debt default, Standard & Poor's agreed. The ratings agency lowered Argentina's sovereign rating on October 31 to B- from B, putting it six notches below investment grade. This marks S&P;'s second Argentina downgrade since August.
"The downgrade reflects our heightened concerns about the deteriorating economic and political environment in Argentina and the resulting increased financial stress," S&P; analyst David Beers said in a statement. Next year's expected GDP slowdown and falling commodities prices will add further strains, with the government in Buenos Aires likely to face difficulties in servicing its $28 billion debt maturing over the next three years.
The move comes as Argentine president Cristina Fernández de Kirchner makes overtures to holdouts from the government's 2005 debt workout, which followed its historic $100 billion default in 2001. Kirchner, whose husband, Nestor, was president during the workout that offered draconian haircuts of 75%, has been working to design a new offer for holdouts while also looking to negotiate with Paris Club creditors. Both moves aim to regain access to international capital markets for a government limited to selling Argentine sovereign debt to Venezuela, its only taker.
Markets had been spooked even before the downgrade, when the Kirchner administration unveiled a plan to nationalize the country's 10 private pension funds. Analysts warn the move is a desperate measure by the government to take over the funds' $26 billion in assets to avoid a new debt default.
S&P; kept its Argentina outlook at stable, partly due to a cushion created by the government's estimated $47 billion in reserves, which does not make a debt default imminent. Investors, however, will find it difficult to justify putting their money in a country that not only threatens free enterprise but now has a rating lower than that of impoverished Burkina Faso and even tiny Belize.
Antonio Guerrero