MEXICO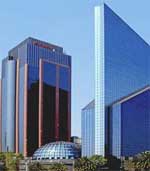 Mexico's stock exchange: Lining up a $1 billion IPO.
After last year's blowout initial public offering by the São Paulo Stock Exchange (Bovespa), which raised $3.6 billion, the Bolsa Mexicana de Valores (BMV), the Bovespa's Mexican counterpart, is following in its footsteps. BMV shareholders—the country's brokerage houses—unanimously voted to allow the exchange to proceed with plans to launch an IPO this year, which BMV executives expect could raise more than $1 billion, despite global market turmoil.
The IPO had been delayed since it was proposed in 2006, partly on account of unsteady financial markets. However, supporters of the move say Latin America's second-largest exchange, after the Bovespa, could prove appealing to investors, as trading volumes continue to rise. Though meager compared to the Bovespa's $1.3 trillion, market capitalization on the BMV rose 15% year-on-year in 2007, to $399.5 billion.
In a move that may further sweeten the deal, shareholders also approved a proposal for the BMV to acquire stakes in the MexDer Mexican Derivates Market and in a local securities clearinghouse. Some analysts predict the BMV's current shareholders may decide to sell their stakes in the exchange through a piggyback offering along with the IPO.
Critics of the sell-off argue that the IPO should be delayed until global market conditions improve, particularly in light of the potential impact of a US recession on the Mexican economy (see story, page 26). They also suggest the BMV should wait until it can attract more listings. While the Bovespa saw 57 IPOs last year, the BMV saw just three. The BMV's benchmark IPC index has had a choppy start to 2008, reacting strongly to negative economic forecasts from Washington.
In Latin America, besides the Bovespa, only the small Colombian (BVC) and Lima (BVL) exchanges are currently listed. The BVC and BVL had market caps of $102 billion and $108 billion, respectively, at the end of 2007. The Mexico City-based BMV traces its origins to 1850, when mining company shares began trading in the Mexican capital.