Roundup
By Gordon Platt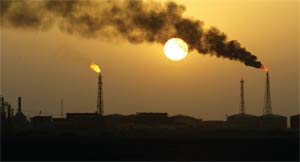 ExxonMobil is first US company to win Iraq oil contract
A joint venture of ExxonMobil and Royal Dutch Shell has clinched a $50 billion deal to develop one of Iraq's biggest oil fields, the West Qurna reservoir near Basra. Exxon- Mobil controls 80% of the venture and is the first US-based company to win a contract since Iraq's oil industry was nationalized almost 40 years ago.
Oil minister Hussain al-Shahristani says the contract requires $25 billion of investments and an additional $25 billion in operating fees and could create 100,000 jobs in the impoverished southern part of the country. A second licensing round will be held this month to develop up to five more fields.
Meanwhile, four Gulf oil-producing countries are pressing ahead with plans for the region's first monetary union, but the United Arab Emirates and Oman are not participating, and the January 2010 deadline almost certainly will not be met. Saudi Arabia, Bahrain, Kuwait and Qatar are trying to get the project off the ground but will keep their currencies pegged to the dollar before deciding on a common currency. Gulf Cooperation Council (GCC) currency union should be seen as evolutionary, rather than an abrupt break with the past, Riyadh-based Samba Financial says in a report.
A power grid connecting the GCC countries will be completed by early 2011, says Saleh ibn Hussein Al-Awaji, Saudi Arabia's deputy minister for water and electricity. The first phase of the grid, linking the kingdom with Bahrain, Kuwait and Qatar, was completed in July 2009. The UAE and Oman are expected to link to the grid by 2011.
The GCC is experiencing one of the highest growth rates in the world for electricity demand, at about 7% annually. Saudi mining company Ma'aden is joining with Saline Water Conversion and Saudi Electric to build a power plant for an aluminum complex at Ras Az Zawr on the kingdom's east coast. They had previously planned to construct two separate power and desalination plants to supply water and electricity to the complex.