Shavkat Mirziyoyev, new rulerof Uzbekistan, is likely to continuehis predecessor's autocratic rule inCentral Asia's most populated nation.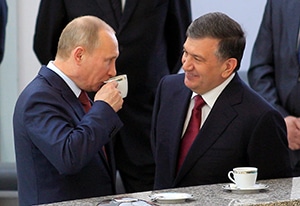 It's a safe guess that before September 2—when Uzbekistan's state-controlled media finally confirmed that 78-year-old president Islam Karimov had died from a stroke after 26 years of brutal rule—few outside Central Asia had heard of Shavkat Mirziyoyev.
Yet the former prime minister, chief mourner at the state funeral and now acting president, seems certain to be confirmed as Uzbekistan's next ruler in the December 4 elections.
That means an "Uzbek Spring," which might have been in the cards if Finance minister Rustam Azimov had assumed the leadership, is unlikely. Mirziyoyev is a hard-liner in the Karimov mold, unlikely to change much about Uzbekistan's autocratic political system or its largely autarkic economic and financial one.
"There might be a semblance of more openness, but that's about it," says Annette Bohr, associate fellow at Chatham House in London. "The one area that might see some change is in relations with Russia, where Mirziyoyev may be more accommodating to Moscow."
Indeed, both president Putin and prime minister Dmitry Medvedev boasted a relatively high profile during Karimov's funeral, because the reality is that Uzbekistan needs Russia. In the early 1990s, Uzbekistan's economy did rather well, thanks to Karimov's decision to diversify away from the main crop, cotton, and invest in mining, energy and even automobile construction. But early efforts to attract large-scale FDI and promote the small and midsize sector foundered on Karimov's refusal to cede control. A multiple-exchange-rate system and other constraints on foreign businesses—not to mention an appalling human rights record and tight censorship—have left Uzbekistan largely isolated, despite its potential and Central Asia's largest population (31 million). Growth this year is expected (officially) to be 3%—well down from the 8% recorded until a few years ago, owing to the drop in remittances from Uzbek workers in Russia and low prices for cotton goods and raw materials, plus a big drop in exports.
"If it had been Azimov taking over rather than Mirziyoyev, foreign investors would definitely be taking another look, because he seems to know what needs to be done to get Uzbekistan's economy moving," says Bohr.
So is there any prospect of change? Maybe. Unemployment is high and prospects few, with Islamic fundamentalism a growing concern in the Fergana Valley in eastern Uzbekistan. Yet despite the oppression, Uzbek society is considerably more complex and diverse than that of the other 'Stans, Although those within the system don't want to rock the boat, others in what is Central Asia's most urban society might come to see Mirziyoyev as lacking Karimov's legitimacy, which was buoyed by his being the father of independence. If the economy worsens and public disaffection becomes more widespread, some change in direction may prove unavoidable.