NEWSMAKERS: COLOMBIA
By Antonio Guerrero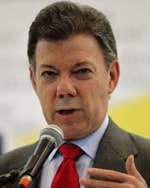 Juan Manuel Santos
Colombians have reaffirmed their support for conservative politics and economics, electing the newest member of a growing group of right-wing Latin American leaders. President-elect Juan Manuel Santos won the run-off election on June 20, with 69% of votes. He has vowed to continue the policies of outgoing president Álvaro Uribe, which means a mix of fiscal conservatism, a hard-line stance against guerrilla rebels and drug traffickers and close ties to the US.
Santos stepped down as Uribe's defense minister last year to join the race. As defense minister, he led a military raid on Ecuadorian soil to pursue FARC rebels along the border. The controversial move sparked tensions with Venezuela's socialist leader, Hugo Chávez, and Ecuadorian president Rafael Correa, a Chávez protégé. Yet Santos plans to invite both leaders to his August 7 inauguration and vows to improve strained ties with Venezuela.
Santos, who has never held elected office, was trade minister and finance minister under prior administrations. He was also president of the United Nations Economic Commission for Latin America and the Caribbean (ECLAC,) based in Chile. Santos holds degrees in economics and business administration from the University of Kansas, the London School of Economics and Harvard University.
The president-elect aims to boost GDP growth to 6% within two years, a sharp rise from this year's official forecast of 3% (the IMF predicts just 2.25%), and eliminate the 4% budget gap before the end of his four-year term—all without raising taxes. He tapped Juan Carlos Echeverry, his campaign's economic adviser, as finance minister. Echeverry, who holds an economics degree from New York University, currently heads a local consultancy. A former planning minister, Echeverry worked closely with Santos, finance minister at the time, to end a recession in 1999.
Among the incoming administration's greatest challenges will be getting a stalled free trade agreement with the US back on track. US legislators have been reluctant to approve the pact due to violence against labor leaders in Colombia, as well as other human rights concerns. The Obama administration is also reducing its military aid. Santos says he will now seek a new relationship with Washington.