NEWSMAKERS: ARGENTINA
Miguel Galuccio is very busy these days. The new CEO of Argentine firm YPF is discussing possible joint ventures with Chevron, Gazprom and the Argentine firm Bridas—partially owned by China's CNOOC.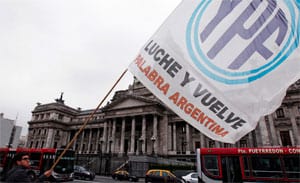 YPF aims to restore investor confidence with five-year plan
Photo Credits: MARCOS BRINDICCI / REUTERS
He recently presented the five-year growth plan for YPF—highlighting Argentine fuel self-sufficiency by 2014 and massive capital spending of $37.2 billion to develop shale reserves and expand general oil and gas production and refining. His key challenges will be to reinstill the confidence of possible foreign partners and investors, and dispel the uncertainty of a new state regulation for the energy sector. Nevertheless, he is convinced that the fear of investors "is going to disappear with time, as long as we show that our plan is solid and we are delivering results."
Galuccio worked at a YPF subsidiary in the past and later managed the Mexican and Central American operations of Schlumberger. The 44-year-old petroleum engineer left a position at YPF in 1999 when Spanish firm Repsol took control of it. He came back as CEO in May this year, barely three weeks after Argentine president Cristina Fernandez had expropriated 51% of the company from Repsol. Now he has to convince investors that YPF is safe to invest in, and competitors that the group could be a good partner.
When he recently spelled out his plan for the company, the focus was on growth in the next five years, and certainly not on the issue of nationalization. Repsol is currently trying to recover some $10 billion from the government of Buenos Aires.
Galuccio's goal is to increase oil production by 32% over the five-year period and increase diesel production by 37%, creating 10,000 new jobs in the process. And he plans to finance 80% of this growth through cash flows and investment by a partner.
During a recent media presentation, Galuccio defended the Argentine president's gambit, saying: "The action was the right one, particularly for YPF." A few weeks after it was nationalized, the company launched a bond offering in Argentina and an international roadshow to talk up a global offering sometime next year.