NEWSMAKER TURKEY
By Valentina Pasquali
Conveying the feelings of a large swath of the Turkish population, which is increasingly tired of the stalled accession negotiations with the European Union, prime minister Recep Tayyip Erdoan recently threatened to abandon the talks altogether.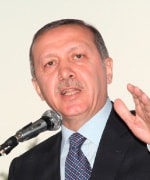 Erdoan is frustrated by protracted EU negotiations
Photo Credits: SADIK GULEC/ Shutterstock.com
"If you are going to do it [let Turkey in], do it; if you are not, say it openly," Erdoan said, noting that it has been five decades since Turkey first applied to join. "We will search for alternatives."
A sign of growing confidence on the part of Turkey, whose promising economic outlook and blossoming relations with Russia, Iran, and countries in the Middle East and Asia, combined with the EU-wide financial crisis, make membership in the Union less appealing than it once was.
Among the ideas Erdoan has been floating is joining the Shanghai Cooperation Organization (SCO), a Central Asian security compact that includes Russia and China. But is this just posturing by the Turkish PM?
"He should be taken seriously; he is the prime minister and is openly talking about the SCO," says Suat Kiniklioglu, former member of parliament and now the executive director of STRATIM, an Ankara-based think tank. "That said, he underestimates the mood in the country, which would not be happy to abandon the EU process altogether."
Even if his words are aimed squarely at European leaders, they could have inadvertent consequences on domestic public opinion. "Such statements will decrease public support for EU membership even though that is not the intention," says Özgür Ünlühisarckl, director of the German Marshall Fund's Ankara office.
There is an element of electoral maneuvering by Erdoan, who is a beloved, three-time prime minister but is now eyeing Turkey's presidential elections next year. He is said to be keen on running, but before he announces, he wants to push through constitutional reforms to refashion Turkey into a US-style presidential system.