AFRICA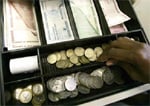 Manuel: Rand's slide will help the country balance its books.
Johannesburg-based AngloGold Ashanti, Africa's largest gold producer, hopes to refinance a $1 billion convertible bond before Christmas, despite current market conditions that have all but closed the market for convertibles. Its strategy calls for obtaining a one-year bridge loan to repay the bond while it studies cheaper long-term options. The company is reportedly in talks with a syndicate of 21 banks to structure a deal. To stabilize its finances amid falling gold prices, AngloGold Ashanti plans to sell non-strategic assets, while focusing on countries like Colombia and Australia, where it has made recent discoveries. It is also mulling a possible IPO for a new division focused on mine development.
Fitch Ratings downgraded its outlook on South Africa's BBB+ credit rating to negative from stable, citing concerns over the country's ability to finance its current account deficit and the possibility that a falling rand will fuel inflation. Finance minister Trevor Manuel counters that the rand's depreciation will instead help narrow the shortfall without boosting inflation. Manuel had predicted the gap would be 7.6% of GDP this year. The rand has fallen by more than 30% against the dollar in 2008, while inflation, though inching down from a record 13.6% in August to 13% in September, remains high. The government predicts the economy will grow by 3% next year, though Fitch has a less bullish 1%-2% forecast.
The global financial crisis is having an impact on many African economies, as commodities prices decline and the amount of remittances sent home by African workers abroad begins to shrink. In response, the African Development Bank lowered its forecast for the continent's overall 2008 growth to no more than 5%, compared with last year's 5.7% expansion and lower than the multilateral bank's initial 6.5% prediction. The bank is asking investors and financial institutions to take a longer-term view of the region. Meanwhile, the IMF recommends that African nations further develop their domestic markets to support growth and mitigate the effects of the global crisis (see feature, page 49).
Antonio Guerrero