NEWSMAKERS: CHINA
By Luca Ventura
As China's economy faces its slowest growth in more than a decade, the focus turns to the new Finance minister, Lou Jiwei. Lou, 63, has arguably the highest international profile among prime minister Li Keqiang's recent cabinet appointees.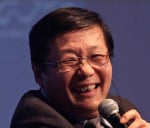 Jiwei is likely to focus more on inward rather than outward economic
As the former head of China Investment Corporation, the nation's $482 billion sovereign wealth fund, he negotiated the purchase of large stakes in Morgan Stanley and Blackstone, and his non-ideological approach has garnered him the reputation of a pragmatic and reliable interlocutor.
Widely viewed as the best-qualified Finance chief since the founding of the People's Republic in 1949, Lou also held the post of deputy finance minister from 1998 to 2007, and in the mid-1980s he was a member of the research team that engineered the country's transition to a global-market-oriented economy.
However, while many liberal reformers hail him as the man who will usher China into a new era of more open economic relations, Lou swiftly points at other more pressing issues on his agenda. "Our fiscal expenditure is growing very quickly, while I estimate fiscal revenue will only post single-digit growth rates in future," he said at an economic forum shortly after his appointment. "We are facing substantive domestic pressures." Excessive credit, high property prices and reduced productivity gains add to the challenges the new minister will face over the next few years.
All eyes, however, will be on the strategic relationship with the United States. After the recent visit to China of US Treasury secretary Jacob Lew, relations appear to be off to a good start, although change will take time. "US officials are hoping that the new leaders in Beijing will restart economic and trade reforms that were largely stalled under the previous leadership regime," says Wayne Morrison, specialist in Asia trade and finance for the Congressional Research Service in Washington. "In particular," continues Morrison, "the United States would like to see China take meaningful steps to accelerate its transition to a free market economy, especially by eliminating distortive and discriminatory economic policies that appear to be largely aimed at helping state-owned enterprises." It's a job for which, many believe, Lou is the best possible fit.