NEWSMAKERS: CHILE
By Forrest Jones
Former Chilean president Michelle Bachelet wants her old job back. A single mother and the leader of the center-left Concertación coalition, she announced in March that she plans to run for president this November.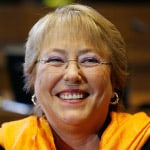 Bachelet would likely tackle labor reform
Bachelet served as president from 2006 to 2010, becoming the first female to run this socially conservative and economically stable South American country. The law bans presidents from serving consecutive terms but allows them to be reelected later, and polls show that Bachelet could very well win.
While many Latin American economies have battled boom-bust business cycles or outright crises in the past, Chile's has remained relatively stable, thanks to sound economic policies and a thriving business sector.
"Chile is considered the highest-quality market in Latin America," says Allan Nichols, senior equity analyst at Morningstar in Chicago.
Electoral topics in Chile these days involve long-term issues, such as income inequality, labor reform or the rising cost of tuition, something the left-of-center Bachelet may find easier to tackle than her presumably conservative rival.
"She has more credibility from the left that she really is going to help the poor," says Nichols, adding that we ought not to expect dramatic policy swings, whether or not Bachelet or the eventual candidate from the right-of-center Coalition for Change wins. "Neither side is going to make some huge populist move to jack up the deficit and spend tons of money on the poor."
Other market watchers say the Chilean economy will likely remain sound come election time, though the price of copper, Chile's main source of income, may be lower.
Copper accounts for 60% of Chile's export revenues, though cooling growth rates in countries like China and India have translated into less demand for the red metal. "She will find the economy in pretty good shape," says Walter Molano, a partner at BCP Securities investment bank in Connecticut. "The only thing is that copper prices are down from the peak. When she left, copper prices were very high. The emerging economies that are really the drivers behind the rise in copper prices are supposed to be weaker than they were when she was president."