India/Global
By Dan Keeler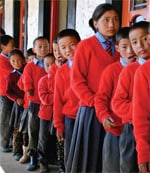 Children at Manjushree
line up for vaccinations
While the financial world has been embroiled for the past two years in the global crisis, Global Finance's charity partner, Amrit Davaa, has been making tremendous progress in its mission to bring healthcare to impoverished people around the world. In the two years since Global Finance accompanied Amrit Davaa's medical team on its first mission to the Manjushree Orphanage in northeast India, the charity has been building on its early success.
Recognizing a need for a permanent medical facility at the orphanage to serve the children and staff and the local population, Amrit Davaa is building a multi-room clinic on the orphanage grounds. Already, the charity has set up a fully functional temporary clinic stocked with $100,000 worth of medical supplies, drugs and a year's supply of hemp protein powder for the children. The ground has been leveled in preparation for building the permanent facility, although construction is dependent on Amrit Davaa raising an additional $300,000.
The charity has adopted some innovative fundraising strategies, including offering donors the chance to sponsor the clinic construction for $30 per square foot and encouraging larger donors to sponsor treatment rooms for a donation of $7,500.
The real, human benefits of Amrit Davaa's work are already clear. All the children at Manjushree have now received appropriate vaccines that will help reduce the incidence of disease, and they have access to modern, effective medical treatment at the orphanage.
Amrit Davaa is also working in Mexico, Vietnam and Afghanistan. It is also currently setting up a free clinic in South Central Los Angeles with the help of another non-profit, Real Medicine, which is providing equipment and helping with the construction of the clinic. As well as establishing the permanent facility, Amrit Davaa is setting up a dental van that will travel to other neighborhoods providing free dental care.
Global Finance continues to support Amrit Davaa's efforts, raising awareness and support for the fight against hunger, disease and deprivation, and encourages its readers to also support this worthy cause. For more information on Amrit Davaa's work and to make a donation, visit www.amritdavaaworld.org .