TURKEY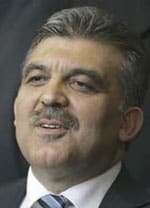 Gul: Nomination triggered a political crisis
Turmoil sparked by the nomination of a suspected Islamist candidate for president in Turkey might have been expected to derail the long-anticipated l2.5 billion Turkish Lira ($1.86 billion) privatisation of the country's fifth largest bank, Halkbank. But the success of the IPO—it closed 10 times oversubscribed —underlined investors' confidence in Turkey's growth prospects, if not its political stability.
One day after the deal launch, on April 24, Abdullah Gul, Turkey's foreign minister—who has long been suspected of having an Islamic agenda in staunchly secular Turkey—was nominated by the ruling Islamic party, Justice and Development, as its candidate for the Turkish presidency. While he failed to secure the required majority in parliament by a handful of votes, his nomination sparked a chain of events that threatened to destabilize Turkey—and the Halkbank IPO.
Within days, the opposition Republican People's Party had petitioned Turkey's Constitutional Court to try to have the nomination of Gul declared invalid. With political protests mounting and international fears about Turkey's stability growing, the military—which has staged numerous coups in the past to protect Turkey's secularism—issued a thinly veiled warning that Gul was an unsuitable candidate.
Predictably, the markets reacted with concern when trading resumed: Istanbul stocks closed down 6.3% on April 30 and swooned a further 3.2% the following day when the Constitutional Court annulled the nomination of Gul and called for fresh elections to be held on July 22.
But Goldman Sachs, which was sole bookrunner for Halkbank's float, persevered, refusing the pull the plug on the offering. In the end, a massive $11 billion in demand was generated for the $1.86 billion listing, allowing it to be priced at the top of its range on May 7. On its debut the stock climbed strongly, closing up 11.25%, as international investors sought to gain exposure.
Ultimately, the 230 investors that came into the book appear to have been able to see through the political shenanigans and focus on the fundamentals of Halkbank—which is well run and capitalized—and the Turkish economy—which is growing rapidly. The presence of the Kuwait Investment Authority—which bought 10.8% of the offer, or 2.78% of Halkbank—in the book confirmed a growing trend of inter-regional investment between the Middle East and Turkey.
Laurence Neville