LATIN AMERICA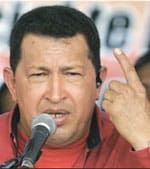 Hugo Chávez: Wants to see the World Bank out of Latin America
While most media attention on the World Bank recently has focused on a political scandal that could spark the downfall of bank president Paul Wolfowitz, the multilateral is facing even greater trouble in Latin America, where governments are taking steps to make the bank increasingly irrelevant.
The region is also feeling little love for the IMF. Venezuelan president Hugo Chávez says he will withdraw from both the World Bank and the IMF, charging the two Washington-based multilaterals are "tools of US imperialism." Nicaraguan president Daniel Ortega announced plans to withdraw from the IMF. Venezuela and Argentina have pooled resources to launch Banco del Sur, a multilateral development bank viewed as an alternative to the World Bank and IMF.
Meanwhile, Ecuadorian president Rafael Correa has ousted the World Bank representative in Quito, alleging he withdrew a World Bank loan in an attempt to blackmail the government into dropping a reform bill that sought to modify an oil revenue fund to increase spending on health and education. The $100 million loan was canceled in 2005 when Correa was finance minister.
Latin American countries began distancing themselves from the IMF and World Bank over the past two years by pre-paying their outstanding debt to the organizations. Swimming in petrodollars, Venezuela paid its $3.3 billion World Bank debt five years ahead of schedule. Brazil pre-paid its $15.5 billion IMF debt in 2005, using reserves boosted by record exports. Argentina and Ecuador also pre-paid their IMF debts.
Some observers contend it may be time to reform the World Bank and IMF in order to pull back from Washington-imposed economic programs that are widely considered to be partly to blame for Latin America's persistent poverty rates and slow economic growth. Latin America's recent stance could serve as a wake-up call to both institutions, as they stand to lose some of their key clients. After all, high global liquidity and Latin America's economic stability amid high commodities exports are leading private lenders to offer more attractive lending terms, and with no political strings attached.
Antonio Guerrero