JAMAICA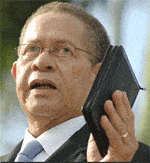 Golding: Ambitious economic plans.
Newly sworn-in Jamaican prime minister Bruce Golding is seeking ways to kick-start the island's sluggish economy and tackle mounting social pressures over escalating unemployment and crime rates (his own forecasts predict 1,300 murders this year alone). Much of his recovery plan centers on shoring up the nation's ailing finances. "We can't continue to borrow our way out of problems, as that just leads to a whole lot more problems," Golding says. He notes that the $14 billion national debt equals 134% of GDP and pledges to lower it to 95% within five years.
Working under Audley Shaw, Golding's minister of finance and public service, is a political newcomer tasked with tackling the debt problem. Don Wehby, a Stanford graduate, took a two-year leave as deputy head of GraceKennedy, one of the English-speaking Caribbean's largest conglomerates, and CEO of GK Investments, the group's financial services division, to lead the debt effort as minister without portfolio.
On the economic policy front, Golding did not appoint a new minister of planning and development but instead took on the job himself. Despite Jamaica's having received nearly $5 billion in FDI between 1995 and 2005, he says joblessness remains high. Last year's meager 2.5% GDP growth was the highest in more than a decade. To facilitate investment, Golding is merging Jamaica's investment promotion agency, development bank and export-import bank into a single unit. He also wants to eliminate double taxation on dividends for non-listed companies as an incentive to reinvestment, to simplify the overall tax structure and to maintain tight fiscal policy.
One of Golding's most ambitious plans involves converting the capital city of Kingston into an offshore financial center, taking advantage of what he regards as an improved regulatory structure. Although acknowledging the city's high crime rate, Golding feels that if other Caribbean islands have created such financial centers, Jamaica can, too.
Antonio Guerrero