NEWSMAKERS: CYPRUS
By Justin Keay
With Cyprus in the midst of facing down the EU while battling to rescue its biggest banks, and during its worst economic crisis since independence in 1960— unemployment is above15%, and GDP could contract by 3.5% this year—new president Nicos Anastasiades probably wasn't expecting much of a post-election honeymoon.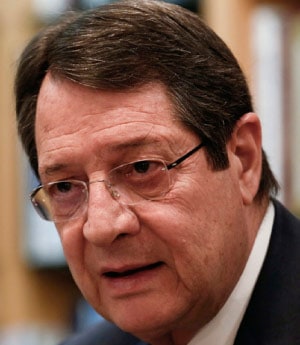 No honeymoon period for Anastasiades
However, the former lawyer, who heads the center-right DISY (Democratic Rally) party and won an impressive 57.5% of the vote in a run-off against communist-backed rival Stavros Malas, has had a baptism of fire.
Within days of his victory in February, state-owned Cyprus Airways declared its losses had more than doubled to €55.8 million ($76 million), prompting calls that it should be allowed to go bankrupt like its north Cyprus rival, Cyprus Turkish Airlines, in 2010. In calmer times such a debate would dominate the Greek Cypriot political agenda for weeks.
However these are not normal times. Almost before he could thank his supporters, Anastasiades found himself in the maelstrom of negotiations over a long-delayed €17 billion bailout, equal to Cyprus's annual GDP and, in relative sovereign terms, among the biggest in the EU's history.
The state's problems owe much to the dependence of the Greek Cypriot economy and banks on Greece. They have been compounded by the failure to carry out fundamental reforms and by the inclination of Anastasiades's predecessor, Demetris Christofias, to tap the Russians for support.
Perhaps Anastasiades' most positive attribute is that by Greek Cypriot standards he has a realistic, relatively non-tribal view of the world. One of the very few politicians in the south to support the 2004 Annan Plan to reunify the island—which was rejected by Greek Cypriots but overwhelmingly endorsed by Turkish Cypriots—he recognizes the need to work with the EU and the IMF. He has acceded to demands that Cyprus's banking system should be fully audited to dispel allegations that it is a haven for Russian money from dubious sources. He also appears to have shifted his stance on privatization. However, he remains opposed to Cyprus's creditors' taking a haircut to reduce the size of the bailout.
As Global Finance went to press, discussions were continuing, with a package expected by the end of March—if Cyprus can come to an agreement on conditions laid down by creditors, the EU and the IMF.