RUSSIA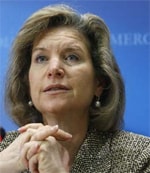 Deripaska: A dramatic turnaround
The global financial crisis is sucking Russia's oligarchs into its vortex. Information provider Bloomberg recently estimated that the combined wealth of the 25 richest Russians had plummeted 62% over the six-month period ended in October, destroying some $230 billion in wealth. Leading the downward spiral was Oleg Deripaska, the head of automobiles-to-aluminum empire Basic Element, who was worth $28 billion as recently as May. An early November Kremlin bail-out to the tune of $4.5 billion allowed Deripaska's aluminum holding Rusal to cling to a 25% stake in Russian metals giant Norilsk Nickel, which it had financed earlier this year with a loan from a syndicate of Western banks. But the trouble may be just beginning for Deripaska and Russia's other oligarchs.
In the same way that he personified the take-no-prisoners approach of the unique Russian brand of capitalism, Deripaska has turned into a poster child of the dangers of leverage and top-of-the-cycle over-expansion. His recent fire sales to raise cash to meet margin calls and debt payments reads like a Who's Who list of out-of-favor assets, including stakes in construction companies Strabag and Hochtief and Canadian auto parts maker Magna International. A Deripaska-controlled bank recently tried to unload a $788 million retail loan portfolio in an effort to boost liquidity. Complicating matters further, Deripaska—who was once denied a visa to visit the United States—has recently been the subject of a political scandal in England, where senior conservative party members are being accused of soliciting donations from Deripaska.
The lifeline from the Kremlin staved off the debt collectors for the time being, but speculation is rising that the Kremlin may not rescue all of the country's suddenly needy oligarchs suffering in the financial crisis, allowing Vladimir Putin to fulfill his 2000 pledge to destroy Russia's oligarchs "as a class." How long Deripaska will be permitted to remain on life support is a topic of spirited discussion in Moscow financial circles.
Kim Iskyan