Palestinian Territories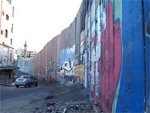 After decades of war, Palestinians are trying to revive a flagging economy.
While media attention is focused on the attempts to broker a peace deal between Israel and the Palestinians, work has been quietly going on behind the scenes to prepare the ground for building a nation state. George Abed, the outgoing head of the Palestinian Monetary Authority, has revealed that his department inside the Palestinian Authority would be ready to form a central bank and issue a currency by 2010, adding, "We will be prepared, in about two and a half years from now, with all the capacity, all the administrative, economic and technical skills to issue a currency and conduct monetary policy should a sovereign state be created." That task will fall to Abed's successor, as Abed resigned for "personal" reasons in early January after nearly three years in the post.
Issuing its own currency would help any future Palestinian entity regulate economic growth and inflation. The World Bank has been assisting the Palestinian Monetary Authority over the past year in the creation of an electronic payment system that would enable real-time bank and credit card transactions, as well as the potential for the sale of government bonds.
Issuing a national currency, maintaining its value and controlling inflation requires that a country be in charge of its own economic and commercial policy, which requires sovereignty. The problem is that despite the recent push by US president George W. Bush to jumpstart Israeli-Palestinian peace talks, there are few signs that the Palestinians are getting any closer today to achieving sovereignty. To establish a viable independent financial system, the Palestinians would need not only the trappings of sovereignty, but also a long period of political stability and steady economic growth.
One hindrance to creating a Palestinian unit of currency is that the present system with three currencies the new Israeli shekel, the Jordanian dinar and the US dollar—circulating freely works quite well and has provided some stability over the years. If it were decided to go ahead with the introduction of a Palestinian currency, it would be unreasonable to expect the Palestinian public to have, from day one, the same degree of confidence in a new, untested currency.