NEWSMAKERS: KENYA
By Dan Keeler
Kenya appears set to reap a substantial investment dividend in the wake of its largely peaceful presidential election held in early March.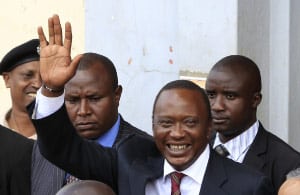 Kenyatta beats his rivals
Analysts believe that portfolio flows and foreign direct investment should both perk up as investors take heart from the fact that this year's poll did not trigger a repeat of the bloodshed that followed 2007's presidential election. "We will definitely see a surge in interest in Kenya now," says Tara O'Connor, director of risk analysis firm Africa Risk Consulting.
Winning 50.1% of the more than 12 million votes cast, deputy prime minister Uhuru Kenyatta comfortably beat his two rivals, Raila Odinga, who garnered a shade over 43%, and Musalia Mudavadi, who came in a distant third. Kenyatta's share, however, was only 8,000 votes over the crucial 50% mark that he needed to reach in order to avoid a run-off poll against Odinga. As Global Finance went to press, Odinga was challenging the result and demanding either a recount or a repeat of the election. Although the outcome was still unknown, the consensus among observers was that Kenya's Supreme Court would confirm the election result, clearing the way for Kenyatta to assume the presidency.
As soon as the election was over, signs began to emerge that investment levels would grow, says Angus Downie, head of economics research at pan-African bank Ecobank. "We saw investors holding back in the run-up to the election…with financial institutions not resident in Kenya adopting a wait-and-see attitude," he comments. "Now the election is out of the way, investment is starting to flow in again."
Uncertainty, however, still hangs over Kenyatta and his running mate, William Ruto. Both are due to stand trial in the coming months at the International Criminal Court in The Hague, accused of inciting the violence that followed the 2007 presidential election.
As part of their effort to reassure the country, Kenyatta and vice-president-elect Ruto met business leaders within days of the election to explain their plans for boosting the economy. The economic benefits of developing a more business-friendly milieu could be substantial, says Downie: "Although Kenya's economy will grow at about 5% or 6% in real terms in this fiscal year, it really should be growing at 9%, 10% or 11%," he says. "What is holding it back is a range of structural barriers such as excessive bureaucracy, unreliable power supplies and a lack of good quality infrastructure. While the private sector is good at getting round these challenges, if they could be reduced, you could expect to see far greater growth."