UNITED KINGDOM / INDIA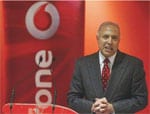 Vodafone head,
Arun Sarin: Global
ambitions

Arun Sarin, chief executive of UK-based mobile phone service provider Vodafone, is living proof that it pays to try again. Rebuffed in his attempt to win control of AT&T; Wireless in 2004, India-born Sarin, a US citizen who now lives in Britain, has succeeded with a major takeover in the land of his birth. Vodafone last month won control of Hutchison Essar, one of Indias fastest-growing telecommunications companies.
The deal was the biggest acquisition made by Vodafone since Sarin joined as CEO three years ago, and it was one of the largest-ever foreign acquisitions in India. The $11.1 billion offer for a 67% stake values Hutchison Essar at nearly $19 billion including debt.
Vodafones shares rose 1.3% in London on February 12, when the news broke. Sarin agreed to pay a big price for a controlling stake in Hutchison Essar, but the perception among analysts and investors was that he did the right thing.
Mobile phone market penetration in India is 13%, against more than 60% in the US and 80% in Britain. Clearly, Sarin is right when he says there is plenty of growth to be had in the huge Indian market. Growing up in India, he learned a thing or two about appealing to that market.
Goldman Sachs is advising Hutchison Telecom, and UBS is advising Vodafone on the deal, which is expected to close in the second quarter of 2007. The British mobile operator has a clearly defined strategy of selling assets in mature markets of Europe and Japan and investing in faster-growing emerging markets. India is the worlds fastest-growing mobile phone market, with more than 6 million new users signing up every month. Sarin and Vodafone will have to find a way to attract a fair share of them.

Gordon Platt