Argentina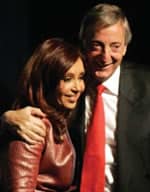 Double act: Nestor Kirchner and the presidential hopeful, Mrs. K.
Argentine First Lady and senator Cristina Fernández de Kirchner is poised to replace her husband, President Nestor Kirchner, in the top post in the October 28 election. Although the president could have sought reelection, he instead supported her candidacy in a move critics claim is a strategy for the couple to alternate power through 2019.
Señora Kirchner—Mrs. K, as she is often called—leads the polls, despite concerns that recent political scandals involving members of her husband's cabinet could damage her campaign. A poll in July shows 47% of respondents intend to vote for her (up from 46% in June), compared to only 12% for former economy minister Roberto Lavagna, the distant second-place runner.
Ironically, Mrs. K is riding the wave of Argentina's economic recovery, designed by rival Lavagna but implemented under her husband's watch. Argentina's recovery from its 2001 economic crisis has been remarkable: It has posted GDP growth above 8% for four years in a row, and unemployment last year fell below 10% for the first time since 1992. Mrs. K says she will keep her husband's economic model unchanged.
Inflation will be a challenge, however. While the government aimed to bring inflation to a single digit by year-end, analysts expect it will be closer to 15%-20%. Official 12-month inflation through July was 8.6%, though there are allegations that the government has intentionally underreported inflation for electoral purposes. "Despite the fact that every indicator points to high inflation, the official CPI reading keeps surprising us on the downside," said a Deutsche Bank report.
Some question whether Mrs. K will continue her husband's policy of strong-arming business owners to reduce prices. Others wonder whether she'll maintain his center-left position that includes a growing alliance with leftist Venezuelan president Hugo Chávez. While not rejecting such alliances, she has met with US and Spanish business executives to help attract investment.
"Elections can no longer be a game of Russian roulette for the Argentine people," she said when launching her campaign. "Mr. President," she said, referring to her husband, "Argentines won't forget you. I just hope that they don't miss you too much."
Antonio Guerrero