SOUTH KOREA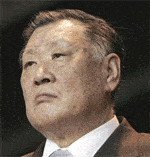 Chung: Convicted but free to go.
Chung Mong-koo, chairman of Hyundai Motor, is too important to South Korea's economy to go to jail, despite being convicted of embezzlement and breach of trust, an appeals court ruled in September. The three-judge panel suspended Chung's three-year prison sentence, but at a hefty price: Chung must fulfill a promise to donate $1 billion of his personal assets to charity.
Meanwhile, Chung will be free to continue to run the world's sixth-largest automaker, assuming he can keep his hands out of the till. South Korea's second-richest man, Chung was convicted of embezzling more than $100 million in company money to set up a slush fund to pay lobbyists to gain government favors and for personal use.
In the words of Hyundai Motor America's new $150 million advertising campaign, "Think about it." Hyundai Motor has big plans to increase its American sales volume to more than 700,000 units by the end of 2010, from the estimated 500,000 it expects to sell this year.
Presiding judge Lee Jae-hong says he thought hard and long about Chung's sentencing. "I was unwilling to engage in a gamble that would put the nation's economy at risk," he says. Hyundai Motor struggled last year when Chung spent two months in jail for questioning. When Hyundai struggles, the nation feels its pain: Last year Hyundai Motors and its affiliate Kia Motors accounted for 72% of South Korea's automobile exports.
In a similar case in 2005, Chey Tae-won, chief executive and chairman of SK, South Korea's leading oil refiner, walked free after an appeals court suspended a three-year jail term for fraud so he could continue running the company.
Sadly, the real surprise to most Koreans was that Chung was sentenced in the first place, not that he was able to avoid prison.
Gordon Platt