SOUTH AFRICA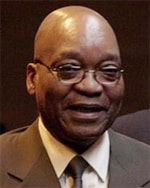 Zuma: Election victory all but assured after charges are dropped.
South Africa's High Court last month dropped all corruption charges against Jacob Zuma, president of the African National Congress (ANC). Although the decision was based on a legal technicality, it cleared the way for the populist Zuma to run for the national presidency in April 2009, with a victory all but assured. The ANC has ruled South Africa since apartheid ended in 1994.
Zuma, a 66-year-old former freedom fighter, has assembled a coalition of trade unions and left-leaning interests. Last December he ousted current president Thabo Mbeki in a bitter battle for the party leadership. Like Brazil's president, Luiz Inácio Lula da Silva, another champion of the poor, Zuma has reassured business interests about his intentions. He says that if he is elected president, he will not be taking any actions to disrupt the economy as he fights to end poverty.
The court ruling swept aside a great deal of political uncertainty, and investors are hoping that Zuma will turn out to be another Lula. They remain nervous, however, that Zuma could be pressured into boosting spending on programs for the poor, threatening the fiscal discipline the country has developed in the past decade.
Zuma was considered a moderate when he served as deputy president in Mbeki's government from 1999 until 2005. Mbeki dismissed Zuma in 2005 after Zuma refused to step down following corruption charges.
Currency analysts say market participants are now fairly comfortable with Zuma, who has already met with foreign investors, and that the South African rand can no longer be counted on to be continually weakening.
Gordon Platt