ARGENTINA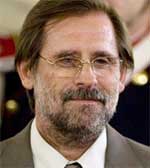 Fernandez: His appointment unsettled financial markets.
As he slips into the seat occupied by four others in less than a year, Argentina's new economy minister, Carlos Fernandez, faces the unenviable task of restoring confidence in his government's economic management. In a cabinet switch that was greeted with dismay by the markets, Fernandez was sworn in in April after predecessor Martin Lousteau stepped down amid policy differences with Argentina's president Cristina Kirchner.
Fernandez, who headed the AFIP tax agency and was previously economy chief for Buenos Aires province, is a close ally of former president Nestor Kirchner, the current president's husband. His selection raises concerns that Nestor Kirchner is running the show for Cristina Kirchner and may wield more power than either is willing to admit.
Lousteau had been regarded as an independent force and was one of the few current cabinet members who did not hold a ministerial post in the Nestor Kirchner administration. The Kirchners criticized him for wanting to overturn their price control scheme that was intended to curb inflation. He was also blamed for unleashing a farmers' strike that caused food shortages and reduced exports after he increased taxes on food products.
Fernandez's arrival signals the possibility of greater government control over the economy and led to a sharp drop in equity and bond prices. Standard & Poor's cut its Argentina outlook from stable to negative. "The outlook revisions reflect the growing uncertainty in the domestic environment as a result of a government management style that exacerbates political and social tensions and may eventually deteriorate governability and curtail local investors' confidence," says a Standard & Poor's report.
Fernandez may revive Lousteau's plan to restart talks with Paris Club creditors for a $6.3 billion restructure. More urgently, he will have to convince investors and analysts that official inflation data is credible amid charges that the government under-reports inflation numbers for political gain and to cut payments on inflation-indexed debt. Private analysts contend April's lower-than-expected 8.9% official annualized inflation is really closer to 30%. Lousteau had been designing a new consumer price index, which Fernandez rejects.
With the Cristina Kirchner administration's approval rating falling from 51.5% in January to 23.6% in April, critics will keep a close eye on Fernandez's performance. The hot seat may soon get hotter.
Antonio Guerrero