PARAGUAY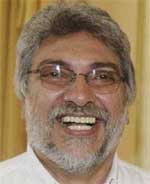 Lugo: Promising to improve Paraguay's international standing.
Paraguayan president-elect Fernando Lugo, a former Catholic bishop, is the newest member of Latin America's growing list of left-wing leaders. He faces serious challenges in a country that, until his inauguration on August 15, will have been ruled by a single party for 61 years.
Lugo has lashed out against wealthy landowners and corrupt political leaders and vows to tackle his country's 43% poverty and 13% unemployment rates. "We will build a Paraguay that will not be known for its corruption and poverty, but for its honesty," he told supporters following his victory.
Paraguay ranks below Libya and Iran in Transparency International's 2007 Corruption Perception Index and ranked as Latin America's least competitive economy in the 2007 Global Competitiveness Index. In Lugo's favor is an economy that expanded 6.8% last year, the highest rate since 1981, fueled by high commodity prices. Paraguay is the world's fourth-largest soybean exporter and an important beef producer.
"Lugo must manage the very high expectations of the population at large while leading a heterogeneous alliance with diverse interests," says analyst Sebastian Briozzo in a Standard & Poor's report. Briozzo warns that a strong opposition could stall Lugo's economic plan, which includes a land reform bill.
Markets welcomed Lugo's selection of Dionisio Borda as economy minister. Borda held the position before and designed the tight budgets that led to last year's record growth. Prior to the election, Moody's upgraded Paraguay's foreign and local currency bond rating to B3 from Caa1 on account of high export prices, strong fiscal surpluses and a drop in debt vulnerabilities. Paraguay's debt ratio fell from 50% of GDP in 2002 to 20% in 2007.
A bigger question is which left-wing model Lugo will follow. He can choose either the free-market policies of Chilean president Michelle Bachelet or the mounting controls and nationalizations of Venezuelan president Hugo Chavez. Chavez's free-flowing petrodollars may prove too hard to pass up.
Antonio Guerrero