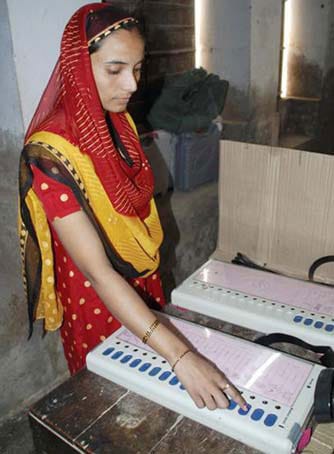 Electoral gains: Poll-related spending will help boost India's economy in 2009
According to a consensus taken from a group of prominent Indian economists, including those representing the Prime Minister's Economic Advisory Council, J.P. Morgan India and S&P; Asia Pacific, the Indian economy is likely to expand by 7% during the next financial year, from April 2009 to March 2010.The growth is expected as a result of the Indian government's stimulus package and monetary easing. The Indian government-run Central Statistical Organization (CSO) had earlier said that it expected the Indian economy to expand by 7.1% in 2008-2009.
The fact that 2009 is also a federal election year is a plus for the economy since election-related spending by the government and the various political parties typically provides a boost. The Election Commission of India in early March announced the dates of the elections for India's 15th general assembly. Given the staggering scale of a general election in India, the elections are phased from mid-April to mid-May 2009. According to the election commission, there are 710 million eligible voters in 2009, compared to 667 million in the 2004 elections. There are 543 seats being contested by 47 political parties. Close to 4 million election personnel will be deployed along with 2.1 million security forces in 828,000 polling stations across the country.
Greater stimulus and populist spending will translate into greater growth for the construction and building materials sectors, and companies in those sectors are gearing up for the impending boom. ACC Ltd, the largest cement manufacturer in India and a part of Switzerland's Holcim Group, said in a report that, despite significant capacity additions in recent years, cement manufacturing capacity will continue to expand in India. Cement prices have so far remained stable in most parts of the country. But with around 46 million tons of capacity coming on stream in 2009—raising India's cement manufacturing capacity to 253 million tons—there are growing concerns that there could be pressure on prices. However, the report adds that manufacturers have begun to curb capacity utilization rates, and these have dropped to an average of 86% in the past year from an average of 93% in the preceding year.
-Aaron Chaze