China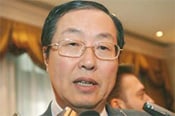 Chinas central bank
governor Zhou:
Trade surplus will be
lowered

Chinas central bank is considering further options for lowering the countrys trade surplus and tightening the money supply, governor Zhou Xiaochuan told reporters in Switzerland at a January meeting of bank governors from the Group of 10 nations. Chinas ballooning surplus has caused friction with trading partners and brought massive monetary inflows, fueling overinvestment and fears of economic overheating. Zhou also said that a more flexible exchange rate policy could be employed if the trade surplus continues to grow. The United States, the European Union and other trading partners claim that the countrys rigid exchange rate policy, which links the value of the Chinese yuan closely to the US dollar, gives China an unfair advantage in international markets.
Internet companies are reshuffling their China strategies as they compete for market share in the challenging Chinese market. Yahoo China announced on January 8 that the company would recast itself as a business-oriented Internet portal. Google, the worlds largest search engine, agreed to invest in Chinese Internet company Xunlei and announced plans to cooperate with telecom giant China Mobile.
IPO fever continues unabated. Share prices of China Life more than doubled in their first day of trading on the Shanghai stock exchange in January, placing a premium over share prices on the Hong Kong and New York exchanges, where the giant insurer is also listed. Several of Chinas overseas-listed companies are now capitalizing on loosened IPO restrictions. China Life raised nearly $3.6 billion in its domestic IPO.
US carmaker Chrysler plans to partner with Chinas Chery Automobile to produce small cars for the Chinese market and for export to markets around the world. The deal must still obtain regulatory approval from the Chinese government as well as the consent of DaimlerChrysler.

Thomas Clouse