MILESTONES: GLOBAL
By Antonio Guerrero
Despite the fact that 60% of the world's economies posted a drop in real per capita income last year, access to formal financial services in developing countries grew. According to "Financial Access 2010," a survey of financial regulators in 142 countries that is published by the World Bank Group and the Consultative Group to Assist the Poor (CGAP), a policy and research center focused on advancing financial access to the world's poor, the number of loans per adult remained flat, but the number of deposit accounts grew by an average of 4.3%.
Governments in developing nations have been concerned with the adverse impact of large unbanked populations often dependent on unsafe and costly informal financing. Yet, while the global financial crisis prompted a drop in the volume of loans and deposit accounts last year, the total number of bank accounts increased. "A simultaneous increase in the number of accounts and decrease in the value of deposits support the view that access to savings and payment services is a basic need," states the report. "This finding underscores the need to promote access to basic payment and savings services as essential tools in an increasingly digitized and globalized world."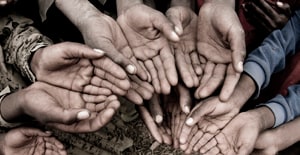 Helping hands: Financial services are reaching more people
The study shows access improved more rapidly among less-developed countries, with the largest median expansion in new accounts reported in the poorest one-fifth of the world's nations. The percentage of banked households was highest among high-income countries, at 91%. The lowest was in sub-Saharan Africa, at 12%. In Europe and Central Asia it was 50%; East Asia and the Pacific tied with the Middle East and North Africa, at 42%; Latin America and the Caribbean had 40%; and South Asia, 22%. The gamut ran from nearly 100% in Japan to less than 1% in the Democratic Republic of Congo.
Technology is helping deliver services more cost-effectively to broader segments of the global population. According to the report, the number of ATMs was greater than the total of bank branches in low-income countries for the first time last year. One bank branch, five ATMs and 167 POS terminals were added per 100,000 adults globally in 2009.