MILESTONES: EMERGING MARKETS
Private Equity Focuses on Emerging Opportunities
By Anita Hawser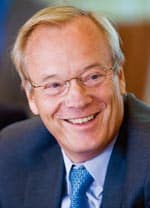 Thunell: Extolling the virtues of emerging markets
While developed markets flounder in a post-crisis quagmire of sovereign debt, developing markets are enjoying much better times—and private equity investors have taken note. According to the International Finance Corporation, the private sector arm of the World Bank, the outlook for private equity investment in emerging markets is bright, with firms being attracted by higher growth prospects and the much lower debt burden enjoyed by emerging markets.
Speaking at the IFC's 12th annual Global Private Equity Conference in Washington, DC, held in association with the Emerging Markets Private Equity Association (EMPEA), IFC executive vice president and CEO Lars Thunell said developing countries were proving more attractive than ever to private equity investors (see Corporate Finance News, page 83). Thunell's enthusiasm is understandable: The IFC's $2.6 billion private equity portfolio, which has invested capital in some of the world's poorest countries, produced an internal rate of return of approximately 18% between 2000 and 2009. The IFC has increased its target for private equity investments from $400 million to $900 million this year. Based on analysis of more than 90 private equity funds, the IFC observed that the risks associated with minority stakes in companies could be managed effectively.
The IFC reportedly boosted its commitment to private equity investment this fiscal year in light of evidence that the money it has already invested in countries like Cameroon, Malawi, Sierra Leone and Bangladesh had resulted in widespread job creation far exceeding regional averages, particularly among SMEs. "We are committed to emerging market private equity and want to see a broader investor base," says Haydee Celaya, IFC director for private equity and investment funds. More than 60% of the companies the IFC invests in are focused on domestic or regional growth opportunities. Its portfolio includes more than 160 funds, with a strong bias toward investment in Africa.