MIDDLE EAST 2014 SUPPLEMENT
By Gordon Platt
Occurring on the global stage, the World Cup 2022 is helping to highlight labor market reform in Qatar.
At least 400 Nepalese construction workers have died in Qatar in the run-up to the World Cup 2022, many from heart attacks or falling from heights, the Guardian newspaper of the UK reported in February. French news agency Agence France-Presse said more than 450 Indian migrants working in Qatar had died in the past two years. AFP obtained the information in response to a Right to Information request filed with the Indian embassy in Qatar.
The Qatar Supreme Committee for Delivery and Legacy, organizers of the 2022 World Cup, issued a 50-page document in February, entitled Workers' Welfare Standards, that requires contractors to set up bank accounts for their workers and to treat them humanely. Hassan Al Thawadi, secretary general of the Supreme Committee, says: "We have always believed that Qatar's hosting of the FIFA World Cup would be a catalyst to accelerate positive initiatives already being undertaken in Qatar, which will leave a legacy of enhanced, sustainable and meaningful progress in regards to worker welfare across the country."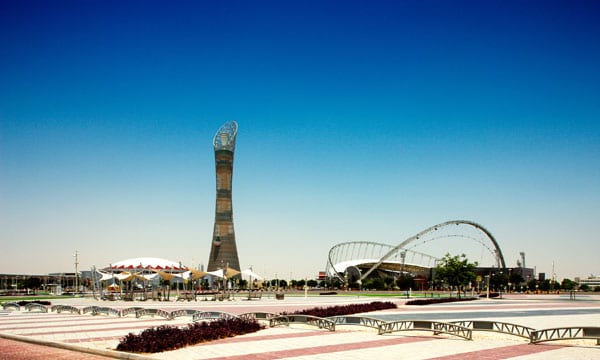 However, Nicholas McGeehan, Gulf researcher at Human Rights Watch, wrote in a blog that the new standards (assuming they are enforced) apply only to select projects related to the construction of stadiums and associated infrastructure. He adds: "These standards provide theoretical protection to a small fraction of Qatar's migrant workers. The standards do not alter the fact that, more than three years after Qatar won the bid to host the World Cup, Qatar's legal and regulatory framework still facilitates the trafficking and forced labor of migrant workers."
If the Qatari government is serious about reform, McGeehan says, "it should apply these standards to the whole migrant worker population, back them up with sanctions, and get to work on reform of the 'kafala' system."
Qatar, like other Arab Gulf countries, has a system of kafala, whereby migrants must be sponsored by an individual in Qatar, usually their employer. They cannot leave the country without permission. Amnesty International last November said some of the biggest companies and projects in Qatar are guilty of severe violations of migrants' rights.
Qatar, one of the world's richest countries, has the highest ratio of migrants to citizens. There are nearly five foreign workers for each Qatari citizen. They make up 94% of the workforce.
Sharan Burrow, head of the International Trade Union Confederation, says up to 4,000 workers could die in Qatar before the World Cup gets under way in 2022, if current laws and attitudes persist. "Qatar is a slave state for 1.4 million migrant workers," she told a European Parliament hearing in February.
Qatar's The Peninsula newspaper—in a front-page letter to Qatar's foreign minister—called for setting up media offices at Qatari embassies in foreign countries to address "a series of reports [that] is tarnishing our image."
There are more than 500,000 Indians in Qatar—the largest expat community—and nearly 350,000 Nepalis. Given the large number of Indians in the country, the mortality rate among Indians during the past two years is not surprising, Ali bin Sumaikh Al Marri, chairman of Qatar's National Human Rights Commission, which is close to the government, told AFP. He said a "vested interest lobby" was behind the media campaign against Qatar.