TURKEY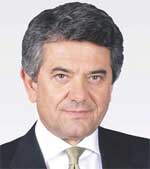 Coskun Ulusoy: Army pension fund looks beyond Turkey, but not Asia.
While pension funds in Europe and other parts of the world are being told to raise their game in order to make up investment shortfalls, the Turkish armed forces pension fund, Oyak Group, is scouring Europe with billions in cash to spend on new investments in the commodities and energy sectors. Established in 1961, Oyak Group is Turkey's largest pension fund, with approximately $8 billion in assets under management. Net profit for the Oyak Group, which holds investments in Turkey's automotive, cement, financial, iron, steel and automotive sectors, reached $2.3 billion in 2007—a return on investment of over 35%.
Oyak Group's CEO, Coskun Ulusoy, attributes its glowing financial performance to its private equity investment strategy, which means it takes a majority investment stake in companies. He says Oyak's unorthodox strategy came about by necessity at a time when there was no real capital market in Turkey—or awareness of corporate governance among Turkish companies. Ulusoy is convinced that the best way to maximize returns for the pension fund's members is to take a controlling stake in companies rather than being a passive investor.
Unlike private equity firms that often have exit strategies, Oyak Group maintains its equity stakes in companies "as long as they are profitable," says Ulusoy. So it may have come as a surprise to some when it divested one of its strategic investments in Turkey's financial sector, Oyak Bank, which it sold to Dutch-based ING Group for $2.7 billion, providing its members with a return of 54.2%. The sale sparked criticism from some segments of the Turkish public that believed it defied the pension fund's supposedly "nationalistic" strategy.
Ulusoy says Oyak sold the bank because in 2006-2007 there were already warning signs of an imminent crisis in the financial markets. The group is also planning to sell its stake in Turkish insurer Axa Oyak Holding to its French partner Axa Group for $525 million but is still awaiting regulatory approvals.
Following its divestments, Oyak Group has $3 billion to spend on new investments, and for the first time it is diversifying its investment focus beyond Turkey to encompass Europe and the United States. Ulusoy says the group is seeking investment in "big-ticket" items in the commodities, energy and mining sectors but would not focus on investment opportunities in emerging markets such as India and China. "We have to remember we are a pension fund. We have to be careful," he says.
Anita Hawser