NEWSMAKERS: BOLIVIA
Rating Upgrade Vindicates Morales's Policies
By Antonio Guerrero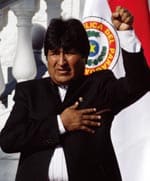 Morales: High hopes for Bolivia's econom y
While many international investors have grown to distrust Bolivian president Evo Morales, a socialist who nationalized the hydrocarbons sector and telephone company, it appears he has been doing some things right on the financial front. S&P; in May upgraded the sovereign's foreign currency rating to B from B-, with a positive outlook. Fitch and Moody's had upgraded it last September.
"The upgrade reflects the continued sharp movement in Bolivia's external indicators because of current account surpluses, rising international reserves, declining external debt and improved fiscal performance over the past four years," says S&P; analyst Richard Francis. Declining debt load has been partly due to debt forgiveness for Bolivia, one of Latin America's poorest countries. Staying clear of global markets, it issued $5 billion at home and extended maturities from two years in 2005, when Morales was first elected, to as much as 30 years.
Driven by mining sector investments and high commodity prices, GDP grew by 3.4% last year. This year the IMF predicts it will grow by 4%, while S&P;'s outlook is more bullish at 5%. According to S&P;, Bolivia's general government balance had a deficit of just 0.1% last year, which it expects to shift to a 0.3% surplus this year. The current account surplus is expected to rise from 4.6% in 2009 to 6% in 2010.
Still, investors will remain cautious as Morales targets energy companies for a possible takeover, following the lead of his mentor, Hugo Chávez, president of Venezuela, whose economic outlook is nevertheless gloomier than Bolivia's. And just days after the upgrade, Bolivia's largest labor union called a general strike to demand a 26% wage hike. The government offered 5%, and taking a page from the Chávez playbook, the administration said the strike was orchestrated by the US.
The Bolivian leader must be pleased with the upgrade. With an ambitious $32 billion government investment plan over the next seven years, the Morales administration hopes to tap international capital markets by end-2011, marking Bolivia's return after more than 70 years.